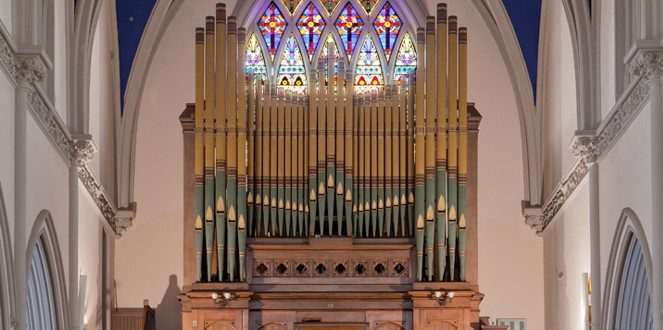 The St. Joseph's Organ:
St. Joseph's is blessed with a historic and beautiful 1891 Hook and Hastings mechanical action organ.  It is a beautiful instrument to look at in the upper rear of our church, and it has a noble sound as it supports the music made in our church.  However, there is a need for our organ to receive some serious work to keep it both functional and protected for the future.  While it continues to chug along with much coaxing and quick fixes, our music director Maria Balducci has made some good progress on understanding the work needed, finding the best organ builders and restorers, and beginning to receive potential bids.

The well-respected company of David E Wallace & Co. LLC Pipe Organ Builders made a visit from their workshop in Gorham, Maine.  David and his son Nick were thrilled that our Hook & Hastings is an original, unaltered model. Their company specializes in historic pipe organs and they understand both the financial and historic value of this organ.  They have given us a proposal for a full restoration of the organ, in which the entire organ (pipes, console, woodwork) would be removed and taken to Maine and worked on for approximately a year (a smaller, temporary organ would be placed in the front of the church) .  The organ would be brought back to St. Joseph's in full splendor, even with the original working hand pump!

A second visit was made by Scot Huntington of S.L. Huntington & Co. Pipe Organ Builders from Stonington, Connecticut.  Scot's company is also well-known for caring for historic pipe organs.  We are awaiting a proposal from his company that will detail renovations to the organ as currently needed, a lesser project than a full restoration, though still with the need to remove much of the organ for an extended period of time.
All of this information, along with a third bid, will be discussed with our current organ tuner, several organists in the area, as well as our parish and financial council here at St. Joseph's.  Any questions, don't hesitate to contact Maria Balducci who will be eager to discuss this project.  More information to come!