Please contact Maria Balducci, Director of Music & Organist, if you are interested in becoming involved with the St. Joseph's music program. (music@st-josephs.org)
"Indeed, through this form [sacred music], prayer is expressed in a more attractive way, the mystery of the Liturgy, with its hierarchical and community nature, is more openly shown, the unity of hearts is more profoundly achieved by the union of voices, minds are more easily raised to heavenly things by the beauty of the sacred rites, and the whole celebration more clearly prefigures that heavenly Liturgy which is enacted in the holy city of Jerusalem." (Musicam Sacram, 1967)
Concert Series: 2023-2024
Friday, September 29, 2023 at 6pm: Hillsdale College Chapel Choir. Under the direction of Dr. Timothy McDonnell, the Hillsdale College Chapel Choir visits from Michigan to offer a concert of sacred choral works.
Thursday, November 2, 2023 at 7pm: Requiem Mass by Claudio Casciolini. The St. Joseph's Choir offers the sung requiem Mass of Italian Renaissance composer Casciolini, in memorium of the parishioners, family members, and friends of St. Joseph's who died in the past year.
Sunday, December 17, 2023 at 4pm: Traditional Lessons & Carols. Join us on Gaudete Sunday for readings and music to reflect on the Advent and Christmas seasons.
Sunday, May 5, 2024 at 4pm: Marian Concert. The second annual concert offered by the St. Joseph's Choir, with motets and hymns in honor of the Blessed Virgin Mother.
The St. Joseph's Choir
The St. Joseph's Choir sings for the Sunday 10:30am Masses. Rehearsals are Thursdays from 7:30pm-9pm. The music encompasses the entirety of the Church's rich history of sacred music, from centuries-old a cappella Gregorian chant to Renaissance polyphony to new works by living composers. We are also hoping to add a monthly women's and/or men's schola for the Sunday 8:30am Masses. Consider joining if you have a background in music or singing, and are looking to find a wonderful, faithful community within the parish. (Contact: Maria Balducci, Director of Music: music@st-josephs.org)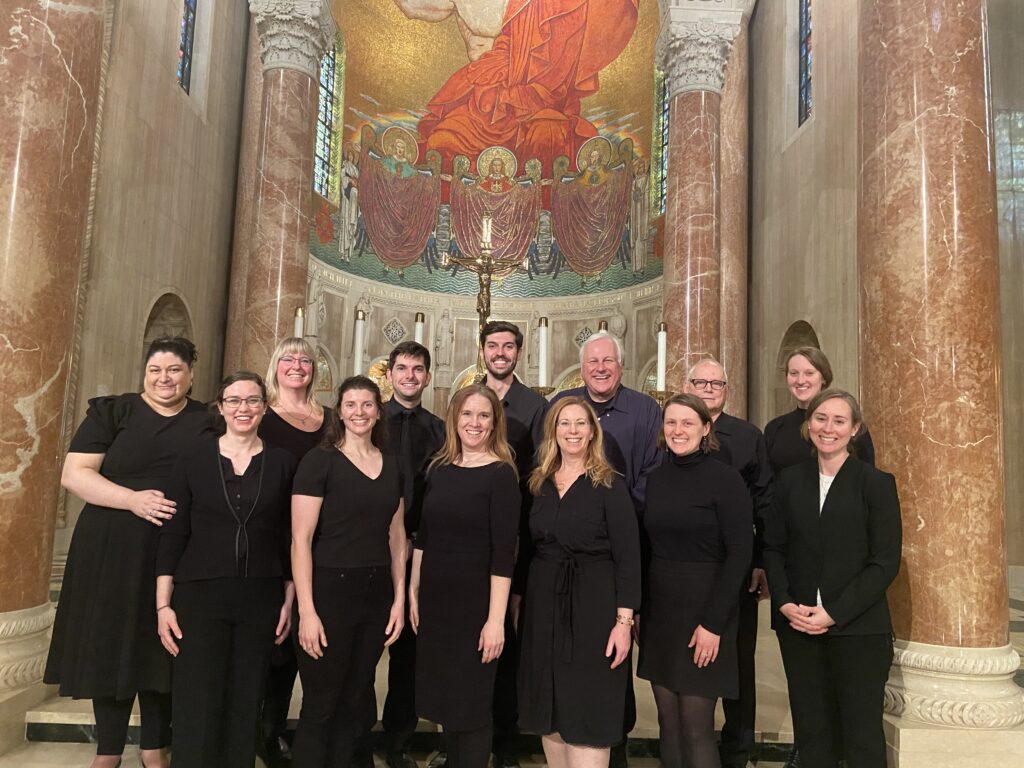 The SJCA: St. Joseph's Chorus Angelorum (Children's Choir)
In the fall of 2022, St. Joseph's added a children's choir to our sacred music program. The Chorus Angelorum- choir of angels- has a two-fold mission: first, to teach the children proper singing technique, chants, hymns, motets, and the Mass ordinary and propers; second, to be exposed to Gregorian chant notation and Latin pronunciation and translation. The Chorus Angelorum is a part of Pueri Cantores, the international student choral organization of the Catholic Church, and participate in their annual regional festival Mass that gathers hundreds of local young Catholic singers. Rehearsals are every other Thursday from 6:30pm-7:30pm. (Contact: Maria Balducci, Director of Music: music@st-josephs.org)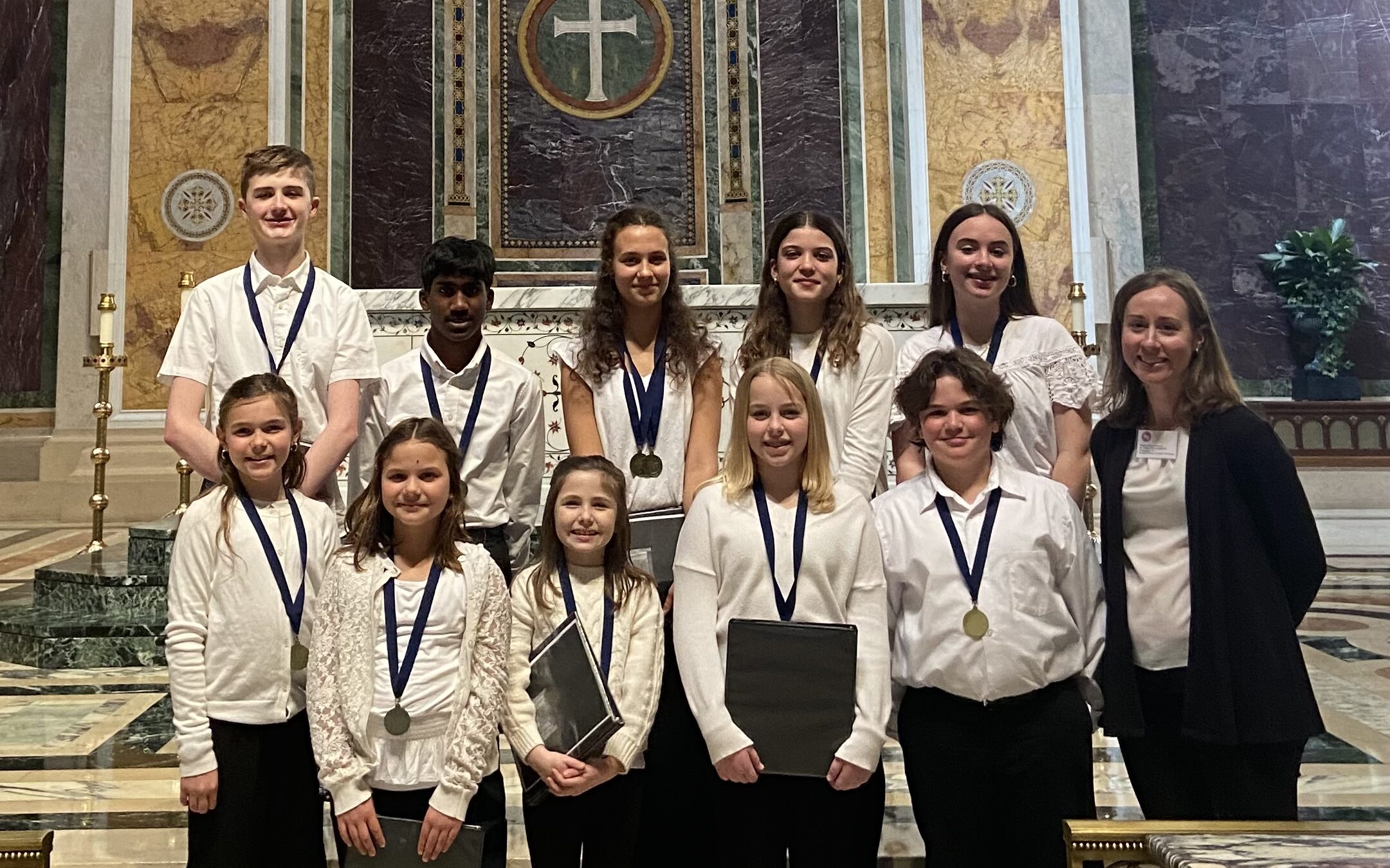 The St. Joseph's Pipe Organ
Hook & Hastings (Opus 1487, 1891)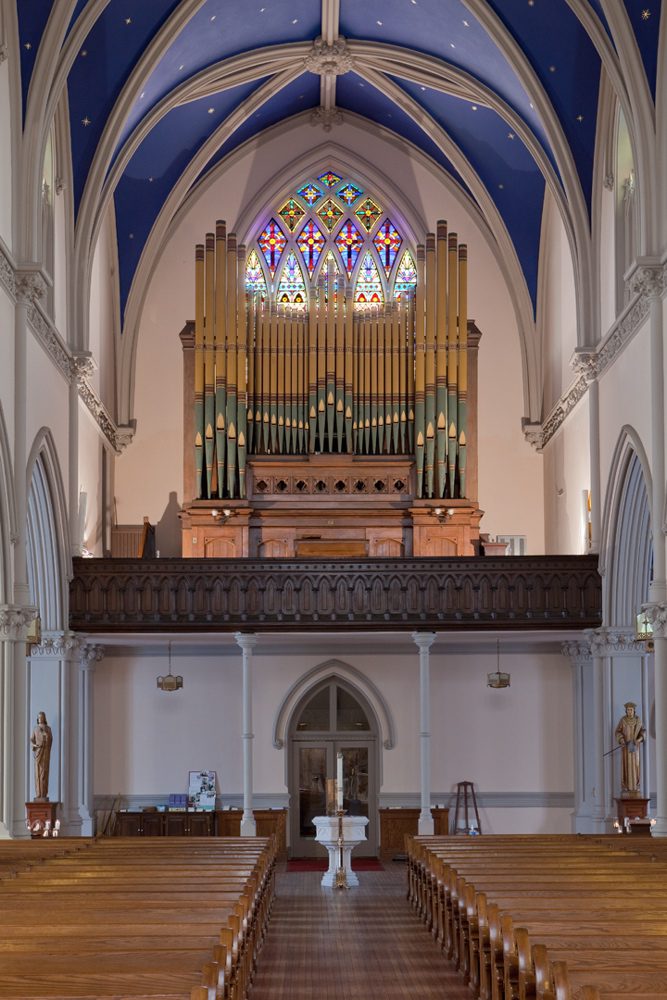 SUMMER 2023 UPDATE: St. Joseph's has selected a company that specializes in historic pipe organ renovations to complete the work needed on our organ. More details to come shortly. As one of the few remaining original and unaltered Hook & Hastings organs in the world, St. Joseph's is committed to its preservation and restoration, so that it will continue to serve the parish and its liturgies for many generations to come.
The pipe organ at St. Joseph's is a treasured piece of its history. The 3-manual, 29 rank tracker action organ was built by Hook and Hastings in 1891, during the construction of the present church. It is the oldest unaltered tracker action organ in Washington, D.C.
Specifications (Manuals, 58 notes; Pedal, 27 notes)
GREAT
16 Open Diapason
8 Open Diapason
8 Doppel Flute
4 Octave
3 Twelfth
2 Fifteeth
1 1/3 Mixture III (174 pipes)
8 Trumpet
SWELL (enclosed)
16 Bourdon Bass
16 Bourdon Treble
8 Open Diapason
8 Stopped Diapason
8 Viola
4 Flauto Traverso
4 Violino
1 1/3 Dolce Cornet III (174 pipes)
8 Oboe & Bassoon
Tremelo
CHOIR (unenclosed)
8 Geigen Principal
8 Melodia
8 Dulciana
4 Flute d'Amour
2 Piccolo
8 Clarinet
PEDAL
16 Open Diapason
16 Bourdon
8 Violincello
About the Musicians