Liturgy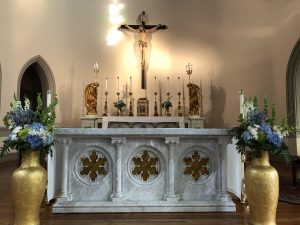 The Liturgy Ministry is responsible for planning, communicating, and implementing the necessary liturgy associated with the celebration of the Mass and Holy Days, working closely with the Pastor and Director of Music to ensure that the Liturgy is relevant and enriches the community of the faithful. If you are interested in volunteering in one of these aspects of our faith, please contact the rectory
Liturgical Ministries include:
Extraordinary Minister of Holy Communion
Usher/Greeter
Sacristan
Altar Server
Hospitality/Coffee Hour
Lector (Minister of the Word)
Church decoration committee
Eucharistic Adoration/Sign-Up
Adult Faith Formation
Adult faith formation facilitates continual spiritual and catechetical growth of parish adults. As the US Bishops explain: "The Church's Pastoral ministry exists to sustain the work of the Gospel…To grow in discipleship throughout life, all believers need and are called to build vibrant parish and diocesan communities of faith and service."
We seek to form adults who actively cultivate a lively baptismal and Eucharistic spirituality with a powerful sense of mission and apostolate. Nourished by word, sacrament, and communal life, they will witness and share the Gospel in their homes, neighborhoods, places of work, and centers of culture.
The Office of Adult Faith Formation attempts to foster a Parish environment that helps the believer to flourish and constantly be challenged; as such, feel free to request or suggest future programs. Please let us know how we can serve you better.
Important Links & Aspects of Adult Faith Formation:
Men's Group

St. Joseph's Men's group January 2020 – The men's group visited the first Catholic Cathedral in the United States, the Basilica of the Assumption in Baltimore. A tour of Benjamin Henry Latrobe's masterpiece, Mass in the Day Chapel and crab cakes at Fells Point made for a great day!

Fr. Begg's Bible Study
Women's Monday Night Bible Study
Knights of Columbus
Youth Faith Formation
The Youth Program is inspired by a model that incorporates catechesis and ministry. It is a comprehensive program that includes, but is not limited to, Confirmation preparation. Within the program, teens learn how to pursue an active Christian lifestyle in all areas of life, including: spirituality, knowledge of the faith, service, and fellowship. During the program, teens experience Christ in a variety of opportunities.
Youth Faith Formation includes:
Music
The music at a worship service is a key element of the overall experience. For many people, Christmas would not be the same without "Joy to the World" and Easter would lack something important if the congregation did not sing "Lift High the Cross."
According to the Second Vatican Ecumenical Council Instruction on the Music in the Liturgy, Musicam Sacram,
(5 March 1967):
"Liturgical worship is given a more noble form when it is celebrated in song, with the ministers of each degree fulfilling their ministry and the people participating in it. Indeed, through this form, prayer is expressed in a more attractive way, the mystery of the liturgy, with its hierarchical and community nature, is more openly shown, the unity of hearts is more profoundly achieved by the union of voices, minds are more easily raised to heavenly things by the beauty of the sacred rites, and the whole celebration more clearly prefigures that heavenly liturgy which is enacted in the holy city of Jerusalem." (n. 5)
Please consider joining the St. Josephs on Capitol Hill Mass Choir as a form of ministry and means of participation in the New Evangelization.
Choirs Available:
Sunday Choir
Young Adult Ministry Praise and Worship Music Group (First Fridays)
Click an image to start slideshow!
Young Adult Ministry
The Young Adult Ministry at St. Joe's serves those between the ages of 18-39 in a variety of ways. The Young Adults come together monthly for Adoration and Fellowship on First Friday and Second Sunday Brunch.
The Young Adults also offer small groups for men and women, a running group, and Bible studies.
This past year we have welcomed Sr. Alethia Noble to speak to our parish, traveled to the Shrine of St. Anthony for a day of recollection, challenged other local Young Adults in trivia, and more!
To find out more about upcoming events like us on Facebook or sign-up for our emails!
YAM Core Team:
James Marafino – Chair
Mariah Bastin – Vice Chair
Emily Jackson – Social Media Coordinator
Kaitlin Fellrath – Small Group Coordinator
Natalie Kretzschmar – Service Coordinator
Social Justice
If you want peace, work for justice
—Pope Paul VI
From Genesis through Revelations "justice" is mentioned prominently throughout the bible. Justice is the underpinning of how we are to relate to each other.
He executes justice for the orphan and the widow, and shows his love for the alien by giving him food and clothing
–De 10:18
Righteousness and justice are the foundation of Your throne; loving kindness and truth go before You
–PS 89:14
To do righteousness and justice is desired by the Lord more than sacrifice
—Pr 21:13
Thus has the Lord of hosts said, Dispense true justice and practice kindness and compassion each to his brother
—Zec 7:9
As Catholic Christians we are called to stand in solidarity with the oppressed, the poor the vulnerable, to love thy neighbor as thy self, to be good shepherds of the earth. We are called to respect the dignity of work, the rights of all people, and life from natural conception to natural death. We are called to both prayer and action, for what is faith without justice or what is action if it is not rooted in our Catholic faith? Love consists of sharing what one has with those one loves. Love ought to show itself in deeds more then words.–Ignatius Loyola
Different Activities Social Justice Ministry involves:
Pro-life Ministry
Community Service Projects
Food Bank
Pastoral Care
Pastoral Care is a ministry of compassionate presence in imitation of Jesus' care of people, especially those who are hurting and in need.
Areas in which Pastoral Care serve:
For the Home Bound
Ministry For the Sick at Washington Specialty Hospital
Ecumenical and Interfaith Ministry
The ecumenical and inter-faith ministry challenges Catholics to develop deeper and better relationships with people in other religious traditions, especially with other Christians.
Important Links to Learn More:
Serving the Parish
The Parish Service Ministry helps keep the parish running smoothly, united as community, and looking it's best.
Ways in which to serve the Parish:
Parish Council (TBD) | Guidelines
Finance Council
Annual Parish Picnic Planning Committee
Saturday Field Day Activities (Parish Beautification and Maintenance)
Pilgrimage and Retreat Planning Committee