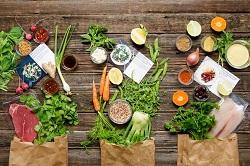 Occasions Caterers Meal Kits
Occasions has launched a selection of meal kits that can be delivered with minimal person-to-person contact. They are designed to feed households of up to two or four for several meals and leftovers. The kits are sent in disposable and oven-ready containers, along with heating and serving instructions. Our meal kit menus change on a weekly basis and deliveries are made on Mondays, Wednesdays, and Fridays to the DMV area. We also have a curated Easter menu and activity kits that parents can do with kids.
For more information or to place an order you may contact Sydney Morgan, the Account Executive at Occasions Caterers, via email, or by phone 202.276.9573.
Check out their menus for the week of March 18 – 27 and March 28 – April 6