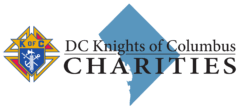 $500 Catholic High School Scholarships
Each year the DC Knights of Columbus, through its charitable foundation, offer $500 scholarships in support of DC resident students who wish to attend or are attending Catholic High Schools in the area. 
Students can apply completely online at charities.dcknights.org/scholarship or they can also download an application and submit via email or USPS.
Applications and related materials must be received no later than January 20, 2023 to be considered. Decisions will be made by February 9, 2023.