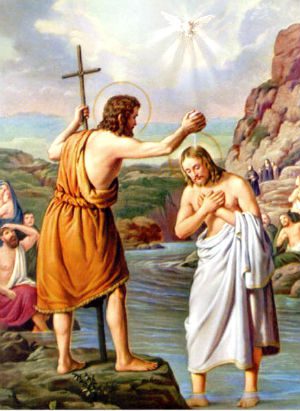 Baptism of the Lord and attack on our Capitol
I have baptized you with water;
he will baptize you with the Holy Spirit."
All three synoptic gospels tell us about this.
Baptism gives a supernatural outlook
In the gospel this Sunday, we hear that Jesus is baptized. In his usual brief, historic way, Mark gives us the basic facts. He doesn't tell us that John the Baptist tried to demure because of unworthiness and or that Jesus was the Lamb of God. But he does tell you that Jesus' baptism, the baptism the Church continues, gives the gift of the Holy Spirit.
When we were young and learning our faith, we learned that when we were baptized, we were washed of original sin and became members of God's family. Absolutely true! But we cannot forget that we were given the Spirit of God through Jesus' baptism whether a dove appeared in the sky or not. At that moment, our soul came to life in an invisible way. We were blessed with a supernatural vision not fully functioning, but potent nonetheless.
One of the most important things we can do in our life is to nurture and remain aware of our supernatural outlook. You have heard me say before, "Gifts are given for the building of the Kingdom." The purpose of this is to remind us and keep us focused on what really matters, our eternal salvation.
When we go for a job interview, one of the things we do to prepare is to take a mental inventory of the things we can do to help that company. We want to be able to say, "I can do the task you give me, because I have the talent and resources needed." We do that because we want the job, we want to be able to provide for ourselves and our loved ones. But do we take an inventory of our gifts for spiritual purposes? Do we even know why God has ultimately given us these gifts? As human beings, we are created for heaven. Our decisions and actions should reflect that end.
To site just one example of having a supernatural outlook, we look to the gospel of Matthew. St. Peter is asked at Caesarea Philippi who Jesus was. He answers correctly, "You are the Christ." Jesus says in response, that Peter is blessed because he did not know that because he was really smart or that he had a degree from a prestigious university or that he looked it up on Google. He was blessed, because God revealed something to him that Peter needed to live his life in a way that reflected his eternal calling.
But of course, Peter, is like us, he lost his supernatural outlook, and in this case, pretty quickly. When Jesus revealed he must suffer, Peter directly contradicts his supernatural responsibility. He says, no, I don't want that. Peter placed his will above that of God, and he was rebuked for it, "Get behind me Satan."
When we prefer ourselves to God, we take an earthly view over a supernatural outlook. The results are always ruinous. Some of you may remember the Russian dissident, Alexander Solzhenitsyn, A man imprisoned for calling for human dignity for his countrymen. He once wrote,
More than half a century ago, while I was still a child, I recall hearing a number of older people offer the following explanation for the great disasters that had befallen Russia: "Men have forgotten God; that's why all this has happened."
Since then I have spent well-nigh 50 years working on the history of our Revolution; in the process I have read hundreds of books, collected hundreds of personal testimonies, and have already contributed eight volumes of my own toward the effort of clearing away the rubble left by that upheaval. But if I were asked today to formulate as concisely as possible the main cause of the ruinous Revolution that swallowed up some 60 million of our people, I could not put it more accurately than to repeat: "Men have forgotten God; that's why all this has happened."
Tragedy in our neighborhood
This week, I think we saw the tragic consequences of what happens when individuals and a nation loses its spiritual outlook.
I believe leaders in government and outside of government cynically manipulated people for their own selfish reasons. Many who came to Washington thought they were engaging in an historic event to secure freedom and fairness for this country. Many were carrying signs proclaiming Jesus as Lord and had a Bible in their right hand. No doubt in the crowd were veterans of the Right to Life March who had in years past peacefully proclaimed the need to protect the unborn.
On Wednesday, those assembled were told that they should fight, that they should enter into combat and prevent the theft of something given to them by God. A crowd of protesters were incited into a mob and they were fueled with a rage that told them they were being denied their rights. Instead, they stole the rights of others. Five people died and countless others were trampled or injured. We look at the instigators and present to them the words of our Lord, "What does it prophet a person to gain the whole world and lose their soul?" (Mark 8:36)
Democracy was assaulted from within and our elected leaders were temporarily prevented from discharging their duty. Thankfully, the People's House was restored and their work finished.
I want to thank all those who are serving honorably in government and do the People's business day in and day out. I want to thank those who protect our freedoms and put their life in harm's way day in and day out. And I want to offer my condolences for those who grieve for deaths that did not need to happen.
We need to recommit ourselves to a supernatural outlook. One which calls us to love our enemies, to forgive those who harm us and to work respectfully and firmly to proclaim the truth in season and out.
American Novena
At St. Joseph's this week, we have composed an American Novena; it is brief and its emphasis is on the intercession of our eleven canonized saints. It will be on our website on Monday and I am having cards printed up which I will send to the Chaplains of the House and Senate for distribution. If you are willing please pray this prayer between now and January 20th.
Father of Providence,

Grant us the courage to extend mercy and respect to those with whom we disagree. Grant us a heart to love this country according to Your Will, seeing in every human person a son or daughter of the One who wants to be called "our Father." We ask this through Christ, Our Lord, Amen.
St. Elizabeth Ann Seton — Pray for us.
St. John Neumann — Pray for us.
St. Marianne Cope — Pray for us.
St. Katherine Drexel — Pray for us.
St. Damien of Molokai — Pray for us.
St. Junipero Serra — Pray for us.
St. Kateri Tekakwitha — Pray for us.
St. Mother Theodore Guérin — Pray for us.
St. Isaac Jogues and Companions — Pray for us.
St. Francis Xavier Cabrini — Pray for us.
St. Rose Philippine Duchesne — Pray for us.
May God bless our parish, may God bless our city, and may God bless the United States of America.